Staff at Child at Street 11 are trained and caring professionals who go the extra mile for each child in the Centre. Both teaching and non-teaching staff attend continuous professional development courses and have played major roles in helping the Centre attain a 3-year license for operations and a 6-year, SPARK Assessment from the industry regulators, ECDA.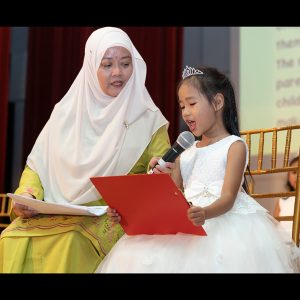 Rabiyah Hassan
Rabiyah Hassan has been with Child at Street 11 from June 2015. Currently a Lead Professional in the Centre's Infant Care Centre, she is a firm believer in building her knowledge in early childhood. She is a qualified infant care teacher and has a Diploma in Early Childcare and Education from the SEED Institute. She has a Diploma in Production Technology from the German Singapore Institute.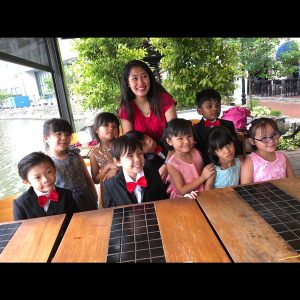 Naik Sherry Louise Docdoc
Naik Sherry Louise Docdoc, who holds a Bachelor of Early Childhood Education from the Philippine Normal University, joined the Centre in June 2014. As a Lead Professional, she has led many in-depth and long-term investigative projects with children aged 2 to 6 years old. In 2018, she led her group of 10 graduating Kindergarten 2 children who wrote letters which they will open in the Year 2065, when Singapore turns 100. The letters were placed by Singapore's Prime Minister Lee Hsien Loong in a time capsule that is buried near the Kebun Baru Community Club.
"Our babies are very important to us. Each one is unique and full of strengths in different areas. They are like sponges, absorbing everything that is spoken or sung to them. It's amazing to see babies show empathy, affection and great understanding of what we educators are communicating with them'' -
"She is a happy baker who likes to cook delicious cookies and pineapple tarts for us. She is an experienced story teller who helped us to become confident. It's important to be confident because you will be calm and won't be afraid.''
"Child at Street 11 is about believing in the power of the children to think, create and go beyond what is expected. To believe that children are full of knowledge and potential is only possible if we are willing to listen to the voices of children. It values building relationship with children, families and the community. That is why the school has an effect on making people feel at home.''
"Teacher Sherry is a very good teacher. She loves children and she taught us how to speak nicely" and to be kind. She also taught us how to draw hearts and shapes.''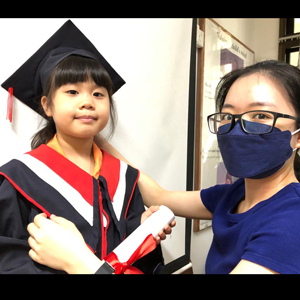 Ling Shu Yu Janelle
Ling Shu Yu Janelle joined the Centre in June 2018. She has two Diploma qualifications - Diploma in Early Childhood Care and Education – Teaching from the SEED Institute and a Diploma in Business Administration (Retail) from Singapore Polytechnic. Key to Successful Classroom Management by National Institute of Early Childhood Development. A keen learner, Janelle has acquired from courses such as Fun Elements of Art in Chinese Language (by Art Loft) and Secrets of Paper, organised by Reggio Children in Italy.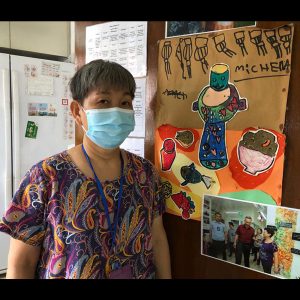 Khong Kam Har
Khong Kam Har has been with the Centre since April 2012 and as a cook, she brings value to the Centre's educational belief that children are explorers and conquerors. And this belief applies to food as well as children are encouraged to eat different types of food and fruits. She just doesn't cook nutritious meals; she understands the need to pay attention to the fine aesthetic details of meal preparations.
"It has been a journey of discovering and observing how children learn and develop. This process has often challenged my expectations, perspectives and understanding on education. At the end of the day, my work is about learning alongside children.''
"Teacher Janelle is in the garden, looking at flowers and the butterflies. Her heart is shining and she has a smiling face.''
"I feel very sad when I cannot buy fresh vegetables and fruits for our children. I cook for the children, the way I cook for my own son. When children eat well, I'm happy. When they don't like the food, I suggest changes to the principal. She agrees and the children eat well again."
"Aunty Khong cooks for us every day. She is happy because the other Aunties are helping her.''
"We can always sense a pride in her whenever she describes her school"
"Merlinda has improved a lot in her reading and maths. Her artwork shows that she is more confident".
"The school has provided a lot of activities and excursions for Ethan during his stay in the school and this has given him great exposure".
"All my children are precious. Elvina is my heart and soul. My two older sons also attended this school. I know the school will take care of Elvina".
To Learn More About Our Services, Reach Out to Us!